Halloween
Days are shorter, nights are cooler, and the leaves are turning red and gold.  October is the time for making soup, curling up under the covers, and readying the house for Halloween.  The following books and websites contain tips for enjoying the fall season.
SCARY STORIES  – all located in the "Short Story" section
The Best New Horror series
Gothic Ghosts edited by Wendy Webb
Roald Dahl's Tales of the Unexpected
The Horror Hall of Fame edited by Robert Silverberg
Night's Yawning Peal selectd by August Derleth
Complete Tales and Poems by Edgar Allan Poe
HALLOWEEN DECORATIONS 


Scarecrows:  Making Harvest Figures and Other Yard Folks by Felder Rushing
The Big Book of Halloween:  Creative and Creepy Projects for Revellers of All Ages by Laura Dover Doran
Pumpkin Carving by Edward Palmer
HALLOWEEN COSTUMES
The Great Halloween Book:  How to Make This Holiday More Fun for the Whole Family by Mark Walker
20,000 Years of Fashion by Francois Boucher
Party Costumes for Kids by Jean Greenhowe
Children's Costumes by Gill Dickinson
And don't forget Autumn:  A Season of Change by Peter Marchand
HALLOWEEN WEBSITES
Halloween on the Net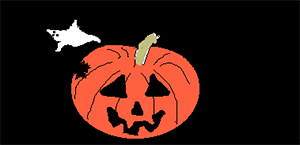 Contact our Reader Services Department at readers@eastmeadow.info.