Reader Services

Welcome to the Reader Services Department:
Marcia Blackman (Department Head), Donna Ballard, Janine Walsh, Christina Crocker, Mary Ellen Fosso, and Susan Saskin welcome you to the Reader Services Department Website of the EMPL web page. Our job is to provide you with books for the adult circulating collection, to keep the collection up-to-date, and to provide book discussions, working closely with the Public Relations Department. We publicize interesting aspects of the collection and just help to make EMPL the vital and exciting place it is!
Please browse our links to several sites. We've provided an e-mail address for your comments and suggestions. We hope you'll find lots of helpful information. Enjoy!
If you would like to recommend a title, please click here.

RBdigital Magazines is now available!

RBdigital Magazines is an online newsstand made free to you by the library. Full-color digital magazines are now available for anytime, anywhere reading on desktops, mobile devices, and apps. The issues are always available so you don't have to worry about holds or due dates. Read online using a PC or Mac or mobile browser, or download issues to your mobile device to read offline (iPad, iPhone, Android and Kindle Fire). This collection of popular digital magazines includes both new and backlist titles. Rolling Stone, Brides, Glamour, Vogue, Newsweek, and Esquire are just a few of the titles we have to offer.
A valid East Meadow Public Library card is required to access RBdigital Magazines.





Looking for eBook/audiobook suggestions? We've created some new and exciting lists to help you find your next read. From bestsellers to self-help, there's a wide variety of topics to explore. Sign in to Nassau Digital Doorway by selecting East Meadow from the list of libraries and then log in using your East Meadow Library card barcode. Or you can sign in using your OverDrive account or with Facebook. Happy browsing!



THANK YOU TO ALL THE PARTICIPANTS OF THE 2018 EAST MEADOW PUBLIC LIBRARY SUMMER READING CLUB! IF YOU WOULD LIKE TO SEE THE ONLINE BOOK REVIEWS, PLEASE CLICK HERE.
CLICK HERE FOR THE SUMMER READING CLUB'S TOP RATED BOOKS.
CLICK HERE FOR THE SUMMER READING CLUB BOOK BUZZ TITLES.


SKYPE WITH THE AUTHOR!

Evening Book Discussion – February 19th at 7:30 p.m. – Carnegie's Maid by Marie Benedict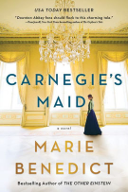 Clara Kelley is not the experienced Irish maid hired to work in one of Pittsburgh's grandest households. She's a poor farmer's daughter with nothing in her pockets. But the other woman with the same name has vanished, so Clara is pretending to be her . . . if she can keep up the ruse. Carnegie's Maid tells the story of a brilliant woman who may have spurred Andrew Carnegie toward philanthropy.
For more information, please call the Reader Services Department at 516-794-2570 ext. 236

Discussion guide for Carnegie's Maid.





Lunch 'N Books – February 28th at 1:00 p.m. – A Place For Us by Fatima Farheen Mirza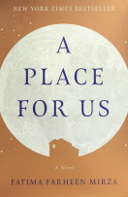 As an Indian wedding gathers a family back together, parents Rafiq and Layla must reckon with the choices their children have made. There is Hadia, their headstrong, eldest daughter, whose marriage is a match of love and not tradition. Huda, the middle child, is determined to follow in her sister's footsteps. Lastly, their estranged son, Amar, returns to the family fold for the first time in three years, to take his place as brother of the bride. What secrets and betrayals have caused this close-knit family to fracture? Can Amar find his way back to the people who know and love him best?
For more information, please call the Reader Services Department at 516-794-2570 ext. 236
Discussion guide for A Place For Us.

Have you tried NoveList, our online readers' advisory tool? NoveList is a wonderful database to help you find fiction books based on your preferences. You can search the database by entering a title or author that you like, or you can even describe the type of book that you would like to read and NoveList will present you with a list of books that match your preferences.
NASSAU DIGITAL DOORWAY
Need help downloading eBooks and audiobooks from the library? Begin with this link.

ONLINE BOOK CLUB
Welcome to our online book club where questions will be posted to promote our discussions. Click here for information on how to join the club.

GOOD READS (Google Directory Readers Advisory Search)
Good Reads is a great way to begin your search for reading guides for your discussion group.

WORLD LANGUAGE COLLECTION


We now carry books in other languages. At this point in time, we have books in Chinese, French, Hindi, Italian, Korean, Portuguese, Russian, Spanish, and Urdu. Click here to see the titles in our collection.

ON THE BEDSIDE TABLE
Welcome to the East Meadow Public Library's new Book Blog where you will find book reviews, new services, a calendar of our book programs and lots more. We're looking forward to your comments, questions, and suggestions. Hope you enjoy reading what we're writing!

READ 'N SHARE
Welcome to the Read 'n Share book club where avid adult readers can informally share the books they have read and enjoyed. Click here for more information regarding this new program. Click here to view the titles from the Read 'N Share meetings.

BEST SELLERS CLUB
By joining our Best Sellers Club you will be automatically placed on the reserve list for the latest fiction by your favorite authors. Click here for more details regarding this exceptional new program.

BOOK CLUB IN A BAG
Welcome to the Book Club in a Bag Program, brought to you by the East Meadow Public Library. Click here for more details regarding this exciting new program.

LUNCH 'N BOOKS
Twice a year we offer a series of four books for discussion. Join us at 12:30 PM when expert leaders will discuss literary works of fiction and non-fiction. You may bring your lunch at 11:45 AM; coffee and tea will be provided for a small fee. Click here

for a listing of the books to be discussed and meeting dates. If you would like to see a complete list of all of the books that we have discussed in our Lunch 'n Books series, please

click here

.

EVENING BOOK DISCUSSION GROUP
The library now has its own book discussion group that meets at 7:30 PM. Book selections are made with the assistance of Reader Services librarian Marcia Blackman, and copies of the book may be reserved at the Reference Desk. Anyone interested in joining the group can just come and join us, no registration is needed. If you have any questions, please call Marcia Blackman or Donna Ballard at 794-2570, ext.236. Click here for a listing of the books to be discussed and meeting dates. If you would like to see a complete list of all of the books that we have discussed in our Evening Book Discussion Group, please click here.

LARGE PRINT BOOKS
Our library has one of the largest collections of large print books in the county. We are proud of our holdings and know that you will find exactly what you are looking for. If you don't find the book you want, please have a librarian check our large basement holdings. Click here for a sample of some of our newest large print titles.

HOMEBOUND SERVICES
Mary-Ellen Fosso, our Community Services Librarian, provides library services for homebound residents. For patrons physically unable to come to the library, we offer a homebound program to deliver books to you. If you are eligible (a doctor's note will be required) please contact us for further information.

MAGAZINE COLLECTION
We have over 100 circulating magazines in our Browsing Room collection, featuring popular titles such as People, Modern Bride, Time, and Entertainment Weekly.

NEW BOOKS IN COLLECTION
Check out the latest titles in the Reader Services 2018 book collection.

BOOK LISTS BY SUBJECT
Bibliographies prepared by the Reader Services Staff.

BOOKS AND READING LINKS
Useful websites for book lovers.
Contact our Reader Services Department at readers@eastmeadow.info.