Reader Services

Welcome to the Reader Services Department:
Marcia Blackman (Department Head), Donna Ballard, Janine Walsh, Christina Crocker, Mary Ellen Fosso, and Susan Saskin welcome you to the Reader Services Department Website of the EMPL web page. Our job is to provide you with books for the adult circulating collection, to keep the collection up-to-date, and to provide book discussions, working closely with the Public Relations Department. We publicize interesting aspects of the collection and just help to make EMPL the vital and exciting place it is!
Please browse our links to several sites. We've provided an e-mail address for your comments and suggestions. We hope you'll find lots of helpful information. Enjoy!
If you would like to recommend a title, please click here.

RBdigital Magazines is now available!

RBdigital Magazines is an online newsstand made free to you by the library. Full-color digital magazines are now available for anytime, anywhere reading on desktops, mobile devices, and apps. The issues are always available so you don't have to worry about holds or due dates. Read online using a PC or Mac or mobile browser, or download issues to your mobile device to read offline (iPad, iPhone, Android and Kindle Fire). This collection of popular digital magazines includes both new and backlist titles. Rolling Stone, Brides, Glamour, Vogue, Newsweek, and Esquire are just a few of the titles we have to offer.
A valid East Meadow Public Library card is required to access RBdigital Magazines.





Looking for eBook/audiobook suggestions? We've created some new and exciting lists to help you find your next read. From bestsellers to self-help, there's a wide variety of topics to explore. Sign in to Nassau Digital Doorway by selecting East Meadow from the list of libraries and then log in using your East Meadow Library card barcode. Or you can sign in using your OverDrive account or with Facebook. Happy browsing!




Evening Book Discussion – May 21st at 7:30 p.m. – Seven Days of Us by Francesca Hornak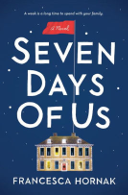 It's Christmas, and for the first time in years, the Birch family will be under one roof. For the next week, the Birches are locked down, cut off from the rest of humanity and forced into each other's orbits. Frivolous daughter Phoebe is fixated on her upcoming wedding, while Olivia deals with the culture shock of being immersed in first-world problems. As Andrew sequesters himself in his study, writing scathing restaurant reviews and remembering his glory days as a war correspondent, Emma hides a secret that will turn the whole family upside down. But nothing is more shocking than the unexpected guest who's about to arrive .

For more information, please call the Reader Services Department at 516-794-2570 ext. 236.
Discussion guide for Seven Days of Us.




Lunch 'n Books – June 10th at 1:00 p.m. – The Last Days of Night by Graham Moore
Location: Calvary Lutheran Church, 36 Taylor Ave., East Meadow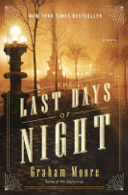 New York, 1888. Gas lamps still flicker in the city streets, but the miracle of electric light is in its infancy. The person who controls the means to turn night into day will make history—and a vast fortune. A young untested lawyer takes a case that seems impossible to win. His client, George Westinghouse, has been sued by Thomas Edison over a billion-dollar question: Who invented the light bulb and holds the right to power the country? In obsessive pursuit of victory, Paul crosses paths with Nikola Tesla, an eccentric, brilliant inventor who may hold the key to defeating Edison.
For more information, please call the Reader Services Department at 516-794-2570 ext. 236.
Discussion guide for The Last Days of Night.





Evening Book Discussion – June 18th at 7:30 p.m. – A River of Stars by Vanessa Hua
Location: East Meadow Jewish Center, 1400 Prospect Ave., East Meadow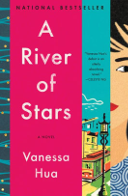 Holed up with other mothers-to-be in a secret maternity home in Los Angeles, Scarlett Chen is far from her native China, where she worked in a factory and fell in love with the married owner, Boss Yeung. Now she's carrying his baby. To ensure that his first son has every advantage, Boss Yeung has shipped Scarlett off to give birth on American soil. Then a new sonogram of Scarlett's baby reveals the unexpected. Panicked, she goes on the run by hijacking a van—only to discover that she has taken on a stowaway who intends to track down the father of her own child. The two flee to San Francisco's bustling Chinatown, where Scarlett will join countless immigrants desperately trying to seize their piece of the American dream. What Scarlett doesn't know is that her baby's father is not far behind.
For more information, please call the Reader Services Department at 516-794-2570 ext. 236.







Dear Summer Reading Club Attendees,
This year's Summer Reading theme is WELCOME TO A UNIVERSE OF STORIES, celebrating the 50th Anniversary of the Moon Landing. As the theme moves into the Space Age, we will do the same with our Summer Reading Club.
The Summer Reading Club is very different this year. Sign-up and reading participation is held online only beginning June 6 at
https://tinyurl.com/empluniverse . Here you can also post all of your reviews. No need to collect "tickets" this year.
At the end of the summer, we will have an End of Summer Party with a guest author and a book buzz. Rather than raffle prizes, we will hold a GALLEY GRAB for those who submitted at least one book review. There will still be book discussions throughout the summer. As an added bonus, there will also be programming at the Cradle of Aviation.
As you know, the Library will be going under construction for our major renovation. You will notice that our list of events for June will have designated sites. July and August locations will be decided as soon as possible and then posted. We will send you notifications, or you can see them on our website https://eastmeadow.info/ .
So, this summer, as we discover a "Universe of Stories" together, let's kick back, enjoy the beautiful weather and READ READ READ!

Have you tried NoveList, our online readers' advisory tool? NoveList is a wonderful database to help you find fiction books based on your preferences. You can search the database by entering a title or author that you like, or you can even describe the type of book that you would like to read and NoveList will present you with a list of books that match your preferences.
NASSAU DIGITAL DOORWAY
Need help downloading eBooks and audiobooks from the library? Begin with this link.

ONLINE BOOK CLUB
Welcome to our online book club where questions will be posted to promote our discussions. Click here for information on how to join the club.

GOOD READS (Google Directory Readers Advisory Search)
Good Reads is a great way to begin your search for reading guides for your discussion group.

WORLD LANGUAGE COLLECTION


We now carry books in other languages. At this point in time, we have books in Chinese, French, Hindi, Italian, Korean, Portuguese, Russian, Spanish, and Urdu. Click here to see the titles in our collection.

ON THE BEDSIDE TABLE
Welcome to the East Meadow Public Library's new Book Blog where you will find book reviews, new services, a calendar of our book programs and lots more. We're looking forward to your comments, questions, and suggestions. Hope you enjoy reading what we're writing!

ON YOUR MARK
Every month, members of the Library staff pick three books that they loved, which are printed on their personal bookmarks. If you like their picks, you can look for their bookmarks next month. It's one more way to match the right
book with the right reader.
On your mark, get set, go find your favorite read!

BEST SELLERS CLUB
By joining our Best Sellers Club you will be automatically placed on the reserve list for the latest fiction by your favorite authors. Click here for more details regarding this exceptional new program.

BOOK CLUB IN A BAG
Welcome to the Book Club in a Bag Program, brought to you by the East Meadow Public Library. Click here for more details regarding this exciting new program.

LUNCH 'N BOOKS
Twice a year we offer a series of four books for discussion. Join us at 12:30 PM when expert leaders will discuss literary works of fiction and non-fiction. You may bring your lunch at 11:45 AM; coffee and tea will be provided for a small fee. Click here

for a listing of the books to be discussed and meeting dates. If you would like to see a complete list of all of the books that we have discussed in our Lunch 'n Books series, please

click here

.

EVENING BOOK DISCUSSION GROUP
The library now has its own book discussion group that meets at 7:30 PM. Book selections are made with the assistance of Reader Services librarian Marcia Blackman, and copies of the book may be reserved at the Reference Desk. Anyone interested in joining the group can just come and join us, no registration is needed. If you have any questions, please call Marcia Blackman or Donna Ballard at 794-2570, ext.236. Click here for a listing of the books to be discussed and meeting dates. If you would like to see a complete list of all of the books that we have discussed in our Evening Book Discussion Group, please click here.

LARGE PRINT BOOKS
Our library has one of the largest collections of large print books in the county. We are proud of our holdings and know that you will find exactly what you are looking for. If you don't find the book you want, please have a librarian check our large basement holdings. Click here for a sample of some of our newest large print titles.

HOMEBOUND SERVICES
Mary-Ellen Fosso, our Community Services Librarian, provides library services for homebound residents. For patrons physically unable to come to the library, we offer a homebound program to deliver books to you. If you are eligible (a doctor's note will be required) please contact us for further information.

MAGAZINE COLLECTION
We have over 100 circulating magazines in our Browsing Room collection, featuring popular titles such as People, Modern Bride, Time, and Entertainment Weekly.

NEW BOOKS IN COLLECTION
Check out the latest titles in the Reader Services 2019 book collection.

BOOK LISTS BY SUBJECT
Bibliographies prepared by the Reader Services Staff.

BOOKS AND READING LINKS
Useful websites for book lovers.
Contact our Reader Services Department at readers@eastmeadow.info.