Evening Book Discussions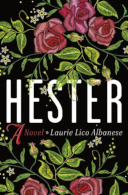 March 20, 2023 at 7:00 p.m.
Hester by Laurie Lico Albanese

Meeting in-person at the East Meadow Public Library
The eBook version of Hester can be accessed through the Nassau Digital Doorway.






EVENING BOOK DISCUSSION ARCHIVE – If you would like to see a complete list of all of the books that we have covered in our Evening Book Discussion Group, please click on the link.



Contact our Reader Services Department at readers@eastmeadow.info.