Evening Book Discussions

April 13 at 7:00 p.m. – 2021 Long Island Reads Selection

Zoom Meeting Details to be Announced.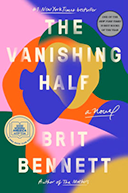 The Vanishing Half by Brit Bennett




May 19 – POSTPONED
The Unbearable Lightness of Being by Milan Kundera




June 23 – POSTPONED
The Girl They Left Behind by Roxanne Veletzos


EVENING BOOK DISCUSSION ARCHIVE – If you would like to see a complete list of all of the books that we have covered in our Evening Book Discussion Group, please click on the link.
Contact our Reader Services Department at readers@eastmeadow.info.