September 11, 2001
We Will Always Remember
September 11 2001: A Selected Bibliography
To check the Online Public Access Catalog for the current availability of these books, please click here. Once you have gotten into the catalog, limit your search to the East Meadow location.
A new genre has emerged from the ashes of September 11, 2001.  Often dealing obliquely with the actual event, post 9/11 literature explores the new American world of terrorism, suspicion, uncertainty, and loss of individual freedoms.  Instead of answering the question "why did this happen?" these books are concerned with "what is happening now?" and "how have things changed?"
Titles in this genre include:
Abbott, Shirley. The Future of Love.  An ensemble of New Yorkers swim the choppy waters of romance. Abbott weaves a delicate tapestry of love and apocalypse.
Delillo, Don. Falling Man.  Brave and brilliant, Falling Man traces the way the events of September 11 have reconfigured our emotional landscape, our memory and our perception of the world.
Foer, Jonathan. Extremely Loud and Incredibly Close.  Nine-year-old Oskar Schell has embarked on a mission that will take him through the five boroughs of New York. His goal is to find the lock that matches a mysterious key that belonged to his father, who died in the World Trade Center. This seemingly impossible task will bring Oskar into contact with survivors of all sorts on an exhilarating, often hilarious, and ultimately healing journey.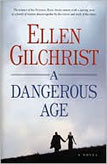 Gilchrist, Ellen.  A Dangerous Age.  The women in the Hand family are no strangers to controversy or sadness.  For Louise Hand, it means coping with the possible loss of the young man she has improbably fallen in love with, especially now that he has vowed revenge for the injuries suffered by his twin brother in Iraq.
Nissenson, Hugh. The Days of Awe.  Nissenson handles various plot threads–Artie's story and book, his family and friends, including 9/11 survivors–with skill, in short, sometimes diarylike entries. This is a moving, thought-provoking exploration of coming to grips with mortality.
See, Caroline. There Will Never be Another You.  Foreboding and all too plausible, the novel is a cautionary novel of family and society, where a naïve past is replaced by a menacing future in which distinguishing between reality and imagination proves to be more challenging than ever.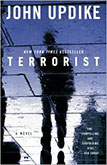 Updike, John. Terrorist.  Life can be cruel when you're a half-Egyptian, half-Irish high school student living in New Jersey. That's Ahmad Ashmawy's predicament; he's too smart for his small world and unable to contain his anger about the flawed, excessive American culture that surrounds him. Recruited by a local Shaikh, he's eventually offered an opportunity to commit a terrorist act. Ahmad's final decision–whether to detonate or not–becomes an allegory of his life
Here are some other titles about September 11, 2001:
Age of Terror: America and the World after September 11. Essays explore the new world of American homeland terrorism and attempt to answer "why?"


America September 11: the Courage to Give. Collected accounts of firefighters, rescue workers, police, medics, and survivors.
Before and After: Stories from New York. The book's first half features essays on late 90's New York before September 11, the second half relates the chilling aftermath of the attacks.
Brotherhood. An oversized book of photographs of the firefighters who died rescuing others, and their surviving brothers.
Covering Catastrophe: Broadcast Journalists Report September 11. Through interviews with news reporters and anchors, the reader gets an idea of the chaotic feeling of September 11 as a news event.
Halberstam, David. Firehouse. Of the 13 firefighters of Engine Company 40, Ladder 35, who rushed to the towers, only one returned.


Highsmith, Carol. World Trade Center: Tribute and Remembrance. A photographic tribute to the New York skyline before the destruction of the towers.
A Just Response: the Nation on Terrorism, Democracy, and September 11, 2001. Essays criticize the American media for not challenging the administration's response to the terrorist attacks.
New York September 11. The Magnum photographers, in town for a conference, captured the terrible destruction of September 11.
Portraits, 9/11/01: the Collected "Portraits of Grief" from the New York Times. The NYT series ran for 7 months after the attack, profiling the lives lost from the missing person posters.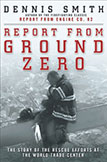 Smith, Dennis Report From Ground Zero: the Story of the Rescue Efforts at the World Trade Center. Smith, author of Report From Engine Company 82, created a rescue worker's diary of the 3 months following the attack.
Compiled by Donna Ballard
Reader Services Department
East Meadow Public Library
Contact our Reader Services Department at readers@eastmeadow.info.