The History of Saint Valentine's Day

Valentine's Day started in the time of the Roman Empire. In ancient Rome, February 14th was a holiday to honor Juno, queen of the Roman Gods and Goddesses. The Romans also knew her as the goddess of women and marriage. The following day, February 15th, began the Feast of Lupercalia.
The lives of young boys and girls were strictly separate. However, one of the customs of the young people was name drawing. On the eve of the festival of Lupercalia, the names of Roman girls were written on slips of paper and placed into jars. Each young man would draw a girl's name from the jar and would then be partners for the duration of the festival with the girl whom he chose. Sometimes the pairing of the children lasted an entire year, and often, they would fall in love and would later marry.
Under the rule of Emperor Claudius II, Rome was involved in many bloody and unpopular campaigns. Claudius the Cruel was having a difficult time getting soldiers to join his military leagues. He believed that the reason was that Roman men did not want to leave their loves or families. As a result, Claudius cancelled all marriages and engagements in Rome. Saint Valentine was a priest at Rome in the days of Claudius II. He and Saint Marius aided the Christian martyrs and secretly married couples, and for this kind deed, Saint Valentine was apprehended and dragged before the Prefect of Rome, who condemned him to be beaten to death with clubs and to have his head cut off. He suffered martyrdom on the 14th day of February, about the year 270.
The pastors of the early Christian Church in Rome endeavoured to do away with the pagan element in these feasts by substituting the names of saints for those of maidens. And as the Lupercalia began about the middle of February, the pastors appear to have chosen Saint Valentine's Day for the celebration of this new feast. So it seems that the custom of young men choosing maidens for valentines, or saints as patrons for the coming year, arose in this way.

Today we celebrate Valentine's Day with flowers, chocolate, stuffed animals, and cards acknowledging loving relationships. May we suggest some books that might just put you in the mood for love…
To check the Online Public Access Catalog for the current availability of these books, please click here. Once you have gotten into the catalog, limit your search to the East Meadow location.
FICTION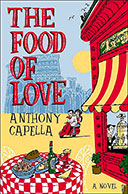 Capella, Anthony. The Food of Love. A modern version of the Cyrano de Bergerac story, this is a lighthearted and entertaining novel set in the Eternal City. In this first novel, Capella has created an enjoyable though predictable narrative. But predictability is not always bad, reading the book is like going to your favorite Roman trattoria while on vacation. You know ahead of time how the spaghetti carbonara will taste, but you will nevertheless revel in the sensation as each ingredient warms your palate and leaves you satisfied.
Dunn, Sarah. The Big Love. Alison Hopkins is devastated when her live-in boyfriend, Tom, walks out of their dinner party and back into the arms of his ex-girlfriend, Kate. Tom is only 33-year-old Alison's second lover, and she wonders if she wouldn't be better off if she had slept with more men. Musing on everything from her evangelical Christian upbringing to men behaving badly (and just how long this stage lasts), Alison's engaging voice carries this thoughtful, introspective, smart novel along and raises it far above the average novel about a young woman looking for love in the big city.



Martin, David. The Crying Heart Tattoo. The main character, Sonny, narrates this story just days after the death of his life-long lover, Felicity Jones. His affair with Felicity, 20 years his senior, was kinky, unpredictable, irregular, and infrequent. Part of the attraction was a story that Felicity told Sonny in installments over the years. This saga paralleled their lives and gave vent to Felicity's hopes, dreams, fears, and despair. When the end of the story and Felicity's last words prove to be "the punch line" to a 30-year-long shaggy dog story, Sonny is the only person who can appreciate the joke. The tattoo ties it all together.
Olafsson, Olaf. Valentines. The stories in Valentines capture the most candid moments between lovers, husbands and wives, parents and children, when truths and true feelings surge to the surface and everything changes. A wife realizes her closest confidante is much more than that. A father tries to make his new lover into the image of his late wife. A husband, a wife, a child, a boating accident, no harm done . . . or is there?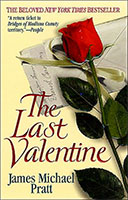 Pratt, James Michael. The Last Valentine. On February 14, 1944, their first anniversary, Navy Lt. Neil Thomas bids his wife, Caroline, farewell at Union Station, Los Angeles. They never meet again. Before he can set eyes on the son born in his absence, Neil's fighter plane goes down in the Pacific. He is declared missing in action, but love never dies. Each anniversary, Caroline returns to Union Station to await her husband. On their silver anniversary, two days after learning that Neil died a hero's death among Philippine partisans, she makes her final pilgrimage with supernaturally happy results. The telling of the story by Neil Jr., himself a lonely widower, to cynical reporter Susan Allison, spawns a parallel romance.
Raymo, Chet. Valentine: A Love Story. Little is known about St.Valentine, whose name symbolizes romantic love. Raymo draws on the tradition that Valentine was a physician in love with the blind Julia to thread his way through the fabric of romance while illuminating the world of the Roman Empire of Claudius II, a time when Christian deaths provided public entertainment. The ideas in Valentine are startlingly relevant to our own times: globalization vs. fundamentalism, reason vs. superstition, and the power of love.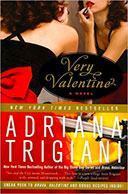 Trigiani, Adriana. Very Valentine. This first in a trilogy is a frilly valentine to Manhattan's picturesque West Village, starring a boisterous and charmingly contentious Italian-American family. Valentine Roncalli, adrift after a failed relationship and an aborted teaching career, becomes an apprentice to her 80 year old grandmother at the tiny family shoe business. While Valentine struggles to come up with a financial plan and shoe design to bring the Old World operation into the 21st century, her brother, Alfred, is pushing Gram to retire and sell her building for $6 million. It's not all business for Valentine, of course. Handsome and sophisticated Roman Falconi, owner and chef at a posh restaurant, is vying for her heart.
NON-FICTION
Hanov

er, Donna. My Boyfriend's Back. Shortly after her divorce from former New York Mayor Rudolph Giuliani, Hanover reunited with the high school boyfriend who had dumped her during their freshman year at Stanford. He apologized for the breakup and they rekindled their love affair and married a year later. Upon learning that her experience wasn't unusual, Hanover began interviewing couples with similar stories. The anecdotes are so touching and the overall message so inspiring, you'd have to be heartless not to feel hopeful after reading this book.


Johns, Pamela Sheldon. Holiday Hearts: A Collection of Inspired Recipes, Gifts, and Decorations. What better way to please the object of your affection than with the classic symbol of love, a heart? Holiday Hearts is a book teeming with food and craft ideas all devoted to the heart. Hearts can be savory, parmesan braided hearts. They can definitely be sweet, pink coconut hearts with rose blossoms. They can be decorative, rose heart candle wreathes. They can even be practical, lavender heart sachets. This year, honor that someone special with a unique, homemade treasure.
Thomas, Anna. Love Soup. Mollie Katzen, author of Moosewood Cookbook said "Anna Thomas is a visionary, pure and simple. She opened our eyes and enlightened our palates and a new world of garden-based eating began to unfold for a generation and beyond. In her latest book, Love Soup, Anna is as present as ever consistent in her passion, skill, and pure delight. This book makes me want to run to my kitchen and get lost in her soups."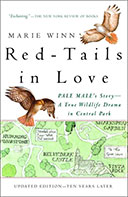 Winn, Marie. Red-Tails in Love: A Wildlife Drama in Central Park. The literature of bird watching is full of memoirs set in out of the way, rural locales, but few are set in the heart of big cities such as New York, where Wall Street Journal ornithology columnist Marie Winn lives. In this delightful account, she tells of birding in Central Park with an unlikely band of fellow enthusiasts (including Mary Tyler Moore and Woody Allen). Among her objects of study were a pair of red-tail hawks who courted, mated, and produced offspring, thus quickening the spirits of Manhattanites.
Contact our Reader Services Department at readers@eastmeadow.info.